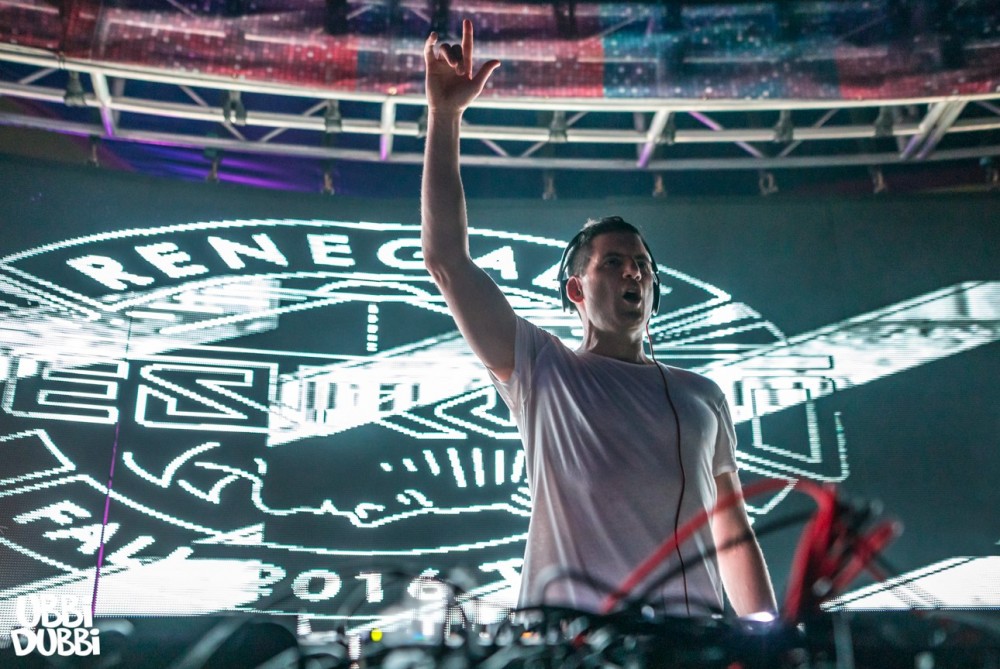 Gary Richards on starting over, keeping it fresh, and changing the game, premieres 'No Retreat' with Loge21 [Interview]
by: Bella Bagshaw
May 16, 2019
Electronic music consumers over the last two decades would be hard-pressed to pinpoint an individual who's impacted the dance music event space harder than Gary Richards. Since the 1990s, Richards (also known musically as Destructo) has taken his talents miles above their subterranean roots, largely helping shape the Southern Californian rave scene, relentlessly seeking new ways to secure dance music a more tangible, industry-wide foothold. From championing a quaint little get together, now known as Electric Daisy Carnival (incepted under the 'Magical Mickey' masthead, from when the event series bore Richards' earmark in the '90s), to hatching the now-legendary HARD Events, which bred the still fervently attended Holy Ship! and HARD Summer, he's exuded a visionary's proclivity for predicting (and propelling) the next electronic it thing oozing the je ne sais quoi that really makes an event stand above the rest.
Richards not only has a promoter's penchant for garnering the excitement needed to get ideas off the ground, but a masterful musician's tact to make them stick. A desire to liven up a scene subject to cyclical staleness served as the impetus for Richards' most recent brainchild, branded AMFAMFAMF (All My Friends).
"The landscape is very competitive," Richards said of picking up shop in 2017 after a decade at HARD to breathe life into yet another new endeavor. "There's a lot at stake now and business people don't want to see new things pop up. But dance music's all about new and fresh and that really can't be stopped."
Though, despite the daunting nature of starting over in one of the most volatile industries in existence, the All My Friends event train gained almost instantaneous headwind, perhaps due to Richards' own reputation preceding him. The first edition of the company's cornerstone party, FriendShip Cruise, amassed thousands for its four-night maiden voyage aboard the Celebrity Equinox to the Caribbean. With it, came a colorful stream of genre-traversing acts, from Boys Noize to Busy P, RÜFÜS DU SOL to Rico Nasty. Richards' seemingly curious curation must have struck a resounding chord, as the 2020 cruise is already 70 percent sold out.
In addition to a stint captaining Def American's A&R sector under the emphatically accomplished eye of pioneer producer, Rick Rubin, driving innovation in the music industry is in Richards' DNA. His father, Barry Richards, a concert promoter and prominent radio personality of the late '60s and early '70s, made sure his son's sonic sonar was firing on all cylinders before he hit puberty, ensuring his kids got to catch everyone from Rick James to Black Sabbath. Barry himself is known for helping to introduce progressive rock to East Coast radio stations in his time. Quite ironically and somewhat timelessly, Barry certainly imparted his intuition and curative periphery to his son, as they stood on the precipice of a consequential musical uprising Barry never saw coming. Barry, it seems, believed Eminem when he quite comically announced "Nobody listens to techno," on 2002's unforgettable "Without Me." Little could Barry have known at the time that Gary would famously sample the line years later for for his 2015 club sensation, "Techno."
"My dad was always like 'Don't mess with that [electronic] music cause no one likes it,'" Richards said. "20 years later, he called me up and was like 'Hey, what's a Major Lazer?'"
With this perpetual irreverence for convention as a promoter/organizer, so comes Richards' success as DJ-producer, Destructo; a success which can be characterized as a career-long dedication to discovering strange new ways to merge the house and hip-hop domains, which historically has been tough to do properly, even despite the two genres' inextricably shared origins. Richards maintains his success as a musician is innately linked to his success on the business side of the coin.
"I think when you're just a concert promoter you've never really been in the artists' shoes, so you don't really understand the nuances—especially DJing electronic music," Richards said of his entrepreneurial edge amidst a capitalism-catalyzed sea of eager competitors.
Securing collaborations with rap icons like Ty Dolla $ign, YG, Yo Gotti, and Busta Rhymes, Destructo's music soon became something of a G-house archetype: flippantly feel-good tracks for a night out up to no good. However, his latest record, a EDM All Day exclusive, strides outside the hip-hop-predicated mold of his most notable works, for what Destructo himself dubs his "hardest-hitting track yet."
"No Surrender" is a bass-driven battle cry primed for the perennially raucous festival frontlines. Bolstered by Parisian bass house duo, Loge21, the track employs Richards' own thunderous, Sparta-inspired vocal cut. Destructo isn't asking this time; he's just cutting to the chase and coaxing listeners directly to dance floors.
AMFAMFAMF recently announced dates for both its Seattle and LA dates— Seattle will see a July 4 affair with Chris Lake and Justin Martin in tow, while LA's October 19 – 20 event roster still remains a mystery. Though, as Richards' newest festival property continues to build brand equity within a heavily diluted electronic events circuit, Richards' is already sure of All My Friends' longevity, noting it is one of his most important entrepreneurial accomplishments so far. "With that it's the same Gary, just a different name," says Richards. And if the last 20 years of dance music events are any indication—if it bears Gary Richards' name, it's going to be a hit.