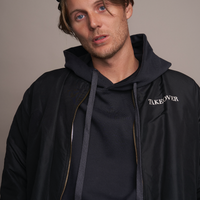 Indigo Kxd Takes Us Higher With A New Track Titled "Said & Done" Ft Amira Eldine
Leicester, UK-based producer-songwriter Indigo Kxd is dropping a fantastic track titled "Said & Done" featuring the gorgeous artist Amira Eldine. Having penned and produced hits for a multitude of artists from varying genres, he's managed to amass well over 100 million streams, and is currently on his way towards global success with this new track.
But what fascinates Indigo Kxd beyond his collaboration with major artists is passion for House and Dance music. In 2022, he dropped his first record "Last Night" a track that instantly positioned within the Top 10 of the Music Week charts UK and received vast support from BBC introducing, who made the song track of the week.
Fast forward to now, Indigo Kxd has teamed up with well respected writer 'Syon' and Amira Eldine to create a laid back but energetic pop dance record, creating the perfect mood to transition into the UK spring with the catchy "Said & Done".
If you haven't yet, make sure to get acquainted with this prolific electronic music artis's new track for a memorable experience!
Follow Indigo Kxd on Instagram