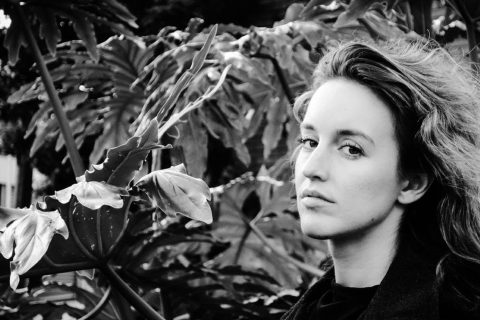 Next In Line: BUOY
Next In Line is a series focusing on Australian artists on the way up.
Singer & songwriter Buoy is best known for her ethereal pop and darker shades of ambient electronic music. She has notably made a name for herself with singles including 'Clouds & Rain', 'Don't want to see you' and more recently her feature on Aussie export What So Not's 'Stuck In Orbit'.
After recently returning from a long stint over in London, we caught up with the jazz-trained and Bachelor of Music qualified artist to learn more about her musical inspirations, interpretation of her evolving sound and her take on the Aussie electronic music scene.
When did you start making music and why?
I started writing songs back in 2013 with a piano and a 606 drum machine. I was feeling pretty dominated by the musicians I was hanging out with at the time and wanted to make music that was my own – where my soul could be free to make any creative decision it wanted without having to justify it. In the process of transitioning into a solo project, I learned the value in having to fight for ideas and also having a team to bounce off. So, I ended up working with a couple of producers to finish and release two EPs. I can't ever remember not singing in my life, I get depressed if I don't sing. That's my main 'why'.
Who are your musical influences? What were/are you listening to?
I grew up listening to lots of different types of music thanks to my older siblings. They used to make us younger ones mix cassette tapes, or I'd go through all their CDs and make them myself. On the same tape would be Tommy Emmanuel, PM Dawn, Spice Girls, Janet Jackson, Tori Amos, Alanis Morissett, Radiohead, Directions In Groove, Des'ree, Chilli Peppers, Madonna, Earth Wind & Fire, to name a few. Just a bit of everything, haha. We played loads of video games growing up too; we all adored the soundtrack to Donkey Kong Country 2. My mum also had a huge influence on my brothers and sister and I 'cause she was the piano player at church and was often playing hymns at home. As a little person, I spent a lot of time lying under the piano stool listening to her play. And she'd switch the radio on every morning, blasting ABC Classic FM. I hated it at the time but now I'm grateful. Even though the original motivation for me to write songs was to have music that was my own, I feel less and less that it belongs to me. It's just as much my family's and my friends' and the listener's as it is mine. That might seem obvious but I had an ego and took a long time to learn this. At the moment I'm listening to Jesus is King by Kanye, lots of classical: Chopin, Debussy, Bach etc. In the past, I've listened to lots of Ryuichi Sakamoto, Thom Yorke, Jamie xx, Bjork. Harmony in music is often what inspires me the most.
How would you define your sound? Can you tell us the story behind 'Clouds and Rain'?
I was completely heartbroken when I made this song. Producers Jack Britten and Christopher Port took my demo and made it into an epic garage journey, then the final mix by Simon Lam brought a whole new level. The stuff I've been making ever since is quite different from this, the goal now is to majorly simplify the production. I don't really know what defines my sound, probably the singing because that's what remains the same.
How did you come to collaborate with What So Not?
Emoh was at my first ever gig as BUOY back in 2014. He was there to hear the band Mammals (who were his buddies), and I was the support. He hit me up a few years later to write a song and "Stuck In Orbit" was the result ? He was so good to work with; always super positive and determined, with a very clear vision. I learned a lot from him.
What is your view on the Aussie Dance music scene right now?
I've just returned from living overseas for the past two years, I feel a bit out of the loop! But at a glance, there is some very fun music happening. There are so many good music schools here now, I feel excited for what's to come.
Southern Cross University is offering its Bachelor of Contemporary Music course at Coomera, right at the doorstep of the Surfers Paradise, as well as south in Lismore nearby Byron Bay in Northern NSW. The Bachelor of Contemporary Music offers students a variety of skills and career paths including performer, songwriter, producer, sound engineer, educator and session musician. On the music business side, the degree offers the skills to start and grow a career as a musical director, events promoter and/or a venue manager.
Read more about the Southern Cross University Bachelor of Contemporary Music course here where you can study music and make beats by the beach.