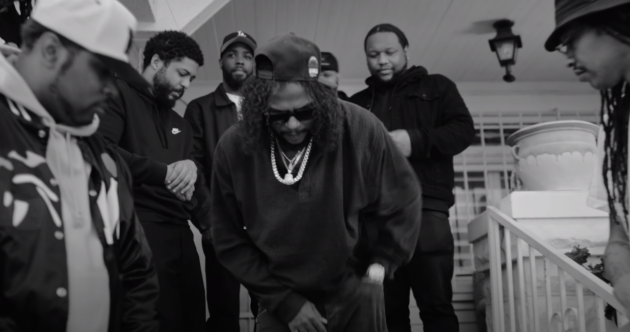 "Ab-Soul Releases Music Video for 'GOTTA RAP'"
Ab-Soul, the rapper from Carson, CA, has finally given his DJ Premier-produced track "Gotta Rap" its much-awaited music video. Directed by Cordell Jomha, the monochromatic clip features Ab-Soul rapping about the struggles of life, the journey to success and everything else in between while making his rounds throughout his hometown.
In the video, Ab-Soul is seen perched on top of a building, rapping, "Shit, I'm already a legend if I ever leave / So you can't get rid of me." As he cruises through the block, he continues to rap about his legacy and how his lyrics will live on in people's memory. The video also features scenes of him rolling dice with his friends, reflecting the gritty and raw energy that Ab-Soul has become known for.
"Gotta Rap" is just one of the standout tracks from Ab-Soul's latest album, "Herbert." The album features collaborations with Jhené Aiko, Zacari, SiR, Luke Skiiiwalker, Fre$h, and more. With his signature flow and introspective lyrics, Ab-Soul continues to prove himself as one of the most talented and innovative artists in the game.
The music video for "Gotta Rap" perfectly captures the essence of Ab-Soul's music, showcasing his raw and unapologetic approach to the art form. Fans of the rapper will undoubtedly appreciate the video and the powerful message behind the lyrics.